..that's what it takes to fulfill your 7-year-old son's request for his birthday cake. Last year was a simple 9", 2-layered cake decorated a la Spiderman. This year, he kicked it up a notch. He wanted a fire truck. Yea, I laughed too. But because I love my kids, I accepted the challenge. Cake decorating is not something I will ever (or could ever) do professionally, nor is it something I would do for someone not biologically contracted to love it regardless, but for a mom trying to make her kids' birthdays memorable, it'll do.
This is how it all started:
With a knife, some strawberry preserves, and buttercream, it looked like this and I was officially worried.
At this point, it needed to chill and so did I. The next morning (this one to be exact), I set out to make the fire truck red icing. If you have never had the displeasure of trying to turn a vat full of lily white icing red, let me acquaint you with the process. First, you painstakingly make a batch of uber delicious buttercream icing. Then you rummage through your cabinet to find the vial of "Christmas Red" gel coloring from Wilton - because, you know, liquid color will not work. Into a working bowl goes the beautiful, painstakingly prepared buttercream. Into same bowl is poured the entire vial of gel coloring . From the bowl stares back at you the most heinous shade of neon hot pink you've ever seen. You taste the once delicious buttercream and gag. Unbeknownst to you, gel food coloring tastes like the south end of a north-bound donkey. Chewing liberal amounts of cinnamint gum and using words that make you very glad your children are not home, you trek to the store for the "No-taste" version of Red Food Coloring Gel. The lady at the bakery laughs at you because your fingers are stained neon hot pink. And your lips are too. You look hot. So back you go to try it again, and just because you refuse to ruin another batch of delicious buttercream, you buy icing in a canister. Really. Hedge your bets.
So I'm back home and mix up the color. It's not too bad. Still forgot to put on gloves. Now I have matching red stains on my fingers. After liberal application of firetruck red to the cake, it now looks like this and I am giddy.
I figured at this point, wheels would make it look really cool. So I took the (store bought) black icing (trust me on this one, just buy it), covered some cookies, and stuck them to the cake. Using icing in a tube and my trusty Wilton tips, some detailing was done to this end:
Using more icing, M&M's, Dots candies, Twizzlers, and Jelly Bellys, I completed the project and did the happy dance. Seriously. I did.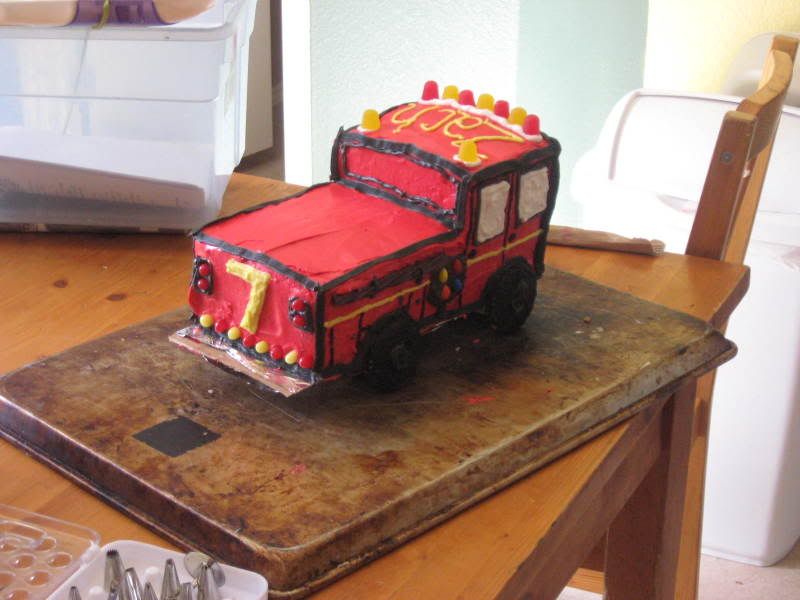 In summary:
Pan, icing, candies, cake ingredients to fulfill your son's cake wish: $35.
Realizing that "no-taste" gel food colorant is a must have: $10.
Fines to The Potty Mouth Jar while building cake: $26
Seeing the joy in his eyes when he sees his cake:
Priceless.